May Lord Shiva bless you 🙏🏾 with health and prosperity.
Happy Teej 💐
May Lord Vishnu bless you with wealth and prosperity on the occasion of Hartalika Teej. 💑 All good wishes too.
Chandan ke khusbu, 💐 badalon ki fuhaar, Aap sabhi ko mubarak ho 🙏🏾 teej ka tyohar.
Teej kaa vrat hai bahut hi madhur pyaar kaa. 💐 Dil ki Shraddha aur sachhe vishwaas kaa. 🙂
May the swings of Joy, Fill your heart with Love, 💞 Happiness, 🙂 and abundant fortune! 🙏🏾 ….HAPPY TEEJ…
You are the sweetest daughter-in-law. 💞 My good wishes are always there for you. Keep smiling 🙂 as you always do.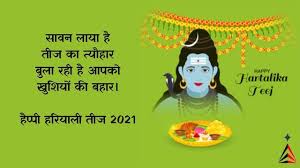 May the divine light of God
spread into your Life
peace, 🙂 prosperity, happiness 💑
and good health
Happy Teej 2021
All good wishes to you Never thought you are alone,Even if no one holding your hand, 🙏🏾 May lord Shiv gives you gleam,The moon 🌙 will shine with your name.Happy Teej. 💐
Teej ka vrat hai bahut hai
Madhur Pyaar ka
Dil ki shraddha or sachey vishvaas ka
Bichhyaa pairon 🙂 mein ho
Maathe par bindiya
Har janam mein milan ho 💞 hamara piya …
May this teej bring peace, bliss and abundance in your life. 🙏🏾 Happy Teej 2021

May Lord Shiva and Goddess Parvati bless you 💑 with good health, prosperity and always protect you from evil. Happy Teej! 💞
May your prayers on the day of Teej all come true! And hope your 💞 marriage lasts a lifetime. 💑
May the divine light spread in your life: 💑 Peace, prosperity, happiness and good health. Happy Teej !
This Hariyali Teej, here's extending my warm greetings 🙏🏾 and best wishes to you and 💞 your better half a blissful married life. 💑
May the magic of this teej bring a lot of happiness 💑 in your life 👍🏾 . Happy Teej 2021